Home Security:
Cracks in Home Defense
These home security 'cracks in your defense' are subtle variations of Break-In, Walk-In, Push-In, Scam-In, and Mug-In home intrusions.
The predators below are especially difficult to guard against – they're often sly wolves in sheep's clothing.

Guard ALL Your Keys & Copies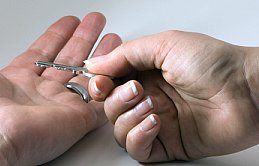 Soon after moving into a quiet neighborhood, Vivian, a single woman, awoke one night with the feeling of something cold pressing against her throat. Sleepily, she grabbed at it and, with a gasp, realized it was a knife. In her pitch-black bedroom, an invisible man's voice hissed, "Shut up or I'll kill you!"
In a shrieking panic, she clamped her hand around the blade and struggled for control until he wrenched it from her grip, gashing her palm. Expecting the knife to begin plunging into her, she kept screaming until she finally realized he had vanished back into the night.

Vivian had always carefully followed all the home security rules and was certain nothing would harm her. And she was mostly right... except for one little thing... She didn't know that the previous owner had given a key to the next-door neighbor and forgotten about it hanging in the neighbor's kitchen. But the neighbor's cousin didn't forget when he saw Vivian moving in. And the neighbor didn't notice when the key disappeared...
The cousin's arrest revealed that Vivian's real-life nightmare never would've struck had she simply changed the door-locks when she'd first moved into her home. Sometimes the littlest things....
• Have a locksmith re-key the door locks (reset the tumblers) when you first move into a home.
• Never put ID tags on keys hoping some kind soul will return lost keys to you – the finder may not be a kind soul.
• Don't hang keys on hooks in plain view inside your home – any visitor can steal them.
• Treat your keys like gold. Clever criminals can quickly make copies. Even hairdressers have made copies for partners while a client is preoccupied.
• Give mechanics and parking valets your car keys only, never your house keys.
Raymond Prinkey broke into a Pennsylvania home using a key he found underneath a flowerpot, and raped the woman living there.
Almost everyone knows the common "secret" hiding spots for keys, such as under the doormat or on top of the door-frame. Get a Keyless Fingerprint or Touch-pad deadbolt lock (see Lock Bumping). Tell a friend or repairman the secret code to allow temporary access, then change the code afterward.
Want-Ads
And to think that you invited him in!
• Donald Wilcox and Mitchell Mavoides used the Parkers anniversary announcement in a Texas paper to hunt them down, rob, and kill them.
• In New Mexico, a man pretended he was interested in buying a home for sale, pulled a gun, and looted the house.
• In Boston, a man came with a polite smile, casually elegant attire, and curious questions about the house for sale. He pulled a knife and raped the homeowner.
• Katherine Ann Olson went to Michael John Anderson's Minneapolis home for a baby-sitting job posted on Craigslist. He murdered her.
• A California college student was murdered after she met a paroled sex offender on Craigslist.
• A Philadelphia man raped six women he met on the dating site Match.com.
• Harley Tapp had seen the man at his yard sale several days before. The man returned when no other customers were present and lured Tapp into the garage by asking for items kept there. As Tapp reached up to get an item, the man grabbed a nearby hatchet and struck Tapp eight times.
• Responding to a woman's newspaper want-ad to sell a used wedding dress, a man claiming to be a theatrical costume designer pulled a gun and raped her. The police said clothing want-ads were his specialty.
People are often robbed and/or raped by predators posing as buyers or sellers on the Internet or through a newspaper classified ad. Naïve sellers willingly invite strangers into their homes to inspect items for sale. Naïve buyers willingly take cash to parking lots or unoccupied homes. Naïve prey make it SO easy for predators.
Criminals read your want-ads, home-for-sale, obituary notices, wedding announcements, etc. to target you. They also place lures in newspaper want-ads and on websites such as Craigslist to meet, isolate, and trap you.
One POSSIBLE deterrent for home-based sales is to have friends or neighbors nearby – but not too near (so they can always get away to call the police) whenever a stranger is visiting you – any stranger (females often work with male predators). This ruins a criminal's anonymity and isolation advantages and will deter some criminals.
Hired Help
• Tanner Green killed Janice Vredenburg in her Wichita KS home. His job as a repairman gave him access to her home in a tranquil neighborhood where people felt safe from crime. His employer had never checked his extensive criminal record for predatory violence.
• Paul Williford, a Tulsa World newspaper deliveryman, raped and killed two women on his delivery route. His employer had never checked his record as a prison parolee for felony assault. Williford watched for single women and gained access to a victim's home by purposely not delivering her paper so that she would call him to ask for it. Then he'd deliver the paper and gain entry when she opened the door.
• Sue Weaver called for an air conditioning repairman from a well-known Florida company. He cleaned Weaver's air ducts, then returned to rape and kill her. His employer never checked his background as a convicted sex offender.
• 10-year-old Joshua Bryant and his 77-year-old grandmother Lillian Martin were killed by an electrician who had performed work earlier in their home. His employer had never checked his extensive criminal record for predatory violence.
Even big companies and employment agencies rarely conduct criminal background checks on their employees (it's expensive). Keep your valuables hidden and check for home security breaches after they leave, in case someone unlocked a window or door or tampered with an alarm.
• Seven gang members invaded a Scarsdale NY home and bound and robbed the homeowners and their teenage daughter at gunpoint. The gunmen burst in after a female accomplice pretended to be lost and in need of help. The gang's ringleader had done landscaping work in the area.
• Johnny Cerda operated a Freeport NY landscaping company, but also set up his clientele for violent robberies. He gave members of his robbery crew the names and addresses of his customers he believed had cash and jewelry.
• Ruthell Williams hired Keith Land as a handyman for work on her Long Island home in New York. Land burglarized and bashed in her head when Williams awoke and confronted him. She was unaware that Land was a violent career criminal with a lengthy prison record. It's a fact easily discovered by typing his name into the state's Corrections Department website.
• Juan Stephan McCray entered the home of an 83-year-old woman and her 94-year-old husband, and beat the woman so badly that she underwent brain surgery. McCray, a paroled felon with a long record of violent crime, is married to a home health care worker caring for the elderly man, who had suffered a stroke.
Thoroughly check out baby-sitters, nannies, gardeners, cleaners, AND their helpers - in short, anyone you allow into your home. Fugitives often apply for domestic jobs to avoid scrutiny. Check references with local police at his/her past addresses. Check a moving company's references with the Better Business Bureau (though most moving companies do NOT screen their employees). See Child Safety - Safeguarding for babysitter screening.
FamilyWatchdog.us shows the registered sex offenders living in your area. However, since rapists average 7 victims before their first arrest, and child molesters average 107 victims before their first arrest – many won't be on the maps... yet. And remember that sex offenders may prowl outside their neighborhood, or are homeless, OR – as 24 percent do nationwide – assume false identities and disappear (maybe into your area).
There are many other criminals who aren't sex offenders – thus aren't on that list. Remember that more than 600,000 felons are released from prison each year and two-thirds of them are arrested for new crimes within three years. And don't forget all the other up-and-coming young predators who haven't been arrested yet.
Mail-Bombs and Biologically Dangerous Mail
Wayne Greavette opened a parcel mailed to him anonymously though Canada Post. He was killed when he flicked on a flashlight containing explosives.
Suspicious signs include excessive postage or wrapping, stains or odors (some explosives smell like almond or marzipan), is lopsided or lumpy, seems to contain a powdery substance, or marked as "Personal" or "Confidential." Businesses usually don't use handwritten labels. If you're suspicious, do not touch it, open doors and windows (to minimize the effects of a blast), leave the vicinity and keep others out, then call the police.
I've classified all home intrusions into five types so you can more easily understand home defense (this page shows subtle variations of those types). To add to the familiar police terms of Break-In, Walk-In, and Push-In, I've created two new categories: Scam-In and Mug-In – as shown below:
Pages related to Home Security - Cracks
• Break-In: most homes are easy to invade. Learn what burglars hunt for.
• Walk-In: half of all home intrusions are through unlocked doors!
• Push-In: blindly opening the door if someone knocks. Better to use an intercom.
• Scam-In: believing a stranger's clever scam and letting him/her enter. Even opening your door an inch is dangerous - see Push-In above. Oh, and do NOT rely on some flimsy door-chain ("chain-lock" or "chain door interviewer"). See Security Products: Door Reinforcement
• Mug-In: being ambushed outside your home and forced inside.
Read How Neighborhood Watch Helps Communities Stay Safe

Predators like to prowl where the prey least expect them. Protect your home security even if you live in Sleepy Valley.
Make sure all your family members use these home defense strategies - a chain is no stronger than its weakest link. Predators will always find prey – but the most cautious targets will likely be spared.
---