Camping Safety
&
Hiking Safety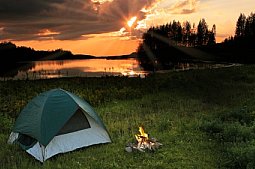 Learn camping safety and hiking safety lessons from crime victims who've discovered too late that dangerous humans are in the wilderness.
~~~

Serial killer Israel Keyes admitted he enjoyed killing people. He chose remote areas because of NO witnesses. He had weapons or body disposal kits stashed across the country: upstate New York, Washington state, Wyoming, Texas and Arizona.

His life of crime started with burglaries and thefts then escalated to rape and murder. His first violent crime was a rape in Oregon. Though he'd planned on killing her, he let her go.

In Alaska, he kidnapped, raped and murdered Samantha Koenig. In Vermont, he shot Bill Currier then raped and strangled his wife, Lorraine Currier. Police suspect he murdered up to 12 people nationwide.

After his arrest and confessions, he killed himself in his jail cell. That's one monster down but the FBI estimates that up to 2,500 serial killers are currently hunting for prey in cities, suburbs, towns, and wilderness nationwide.
~~~

Park rangers are now often armed. But will one always be nearby to protect you?
Per capita, wilderness crime rates are roughly the same as urban crime rates. What happens in the cities also happens in the forests – which are ideal for thrill-seeking predators, hideouts for fugitives, and gang's illegal drug labs. And the forests give them a huge advantage: no witnesses nearby to see or hear – or come to your rescue.

Here are a few of the many past examples on the Appalachian Trail:
• A fugitive met a hiking couple in Georgia and killed the man in May 1974.
• A woman hiking alone in Tennessee met a man who cooked her breakfast, then killed her with an ax in April 1975.
• Randall Lee Smith killed campers Robert Mountford Jr. and Susan Ramsay in Virginia in May 1981.
• Stephen Roy Carr killed Rebecca Wight and wounded Claudia Brenner in Pennsylvania in May 1988.
Some people now pack guns. Some hike with dogs and/or pepper spray. The Appalachian Trail Conference has a handbook: "Trail Safe: Averting Threatening Human Behavior In The Outdoors." Along with the old advice of 'Don't hike alone,'" the ATC now adds 'Never let your guard down.'
My experience in "Not All Threats Are Quite So Obvious" on Victims Options - Posturing shows my vulnerability in the wilderness even when I was carrying guns.
See Wilderness Crime for more examples in other parks nationwide.
What You Least Expect - Where You Least Expect It
In August 1982, David Ennis (a.k.a. David Shearing) met three generations of a family camping in Wells Gray Park in British Columbia: grandparents George and Edith Bentley, parents Bob and Jackie Johnson, and grandchildren Janet, 13, and Karen, 11.
Ennis killed the adults and put their bodies in the trunk of their car. Then he raped the children for six days before locking them, alive, in the car's trunk with the adult's bodies, and incinerating the car - killing them too. The seclusion of the wilderness was to his advantage.
Natural Wonders & Natural Monsters
Charles and Shirley Chick were camping in Oklahoma's Ouachita National forest when Edward Leon Fields, camouflaged head to toe, crept up on them. After shooting Charles Chick, Fields chased down Shirley Chick and shot her twice in the head.

In Washington's Mount Baker-Snoqualmie National Forest, the bodies of a mother and daughter were found alongside the trail – each shot in the head. Now some hiking groups have new tactics: they hike in two groups – fast and slow – and carry two-way radios (for what little protection that provides).

While the beauty of the wilderness can blind you to the dangers, the above crimes open your eyes to true outdoor safety. Ask a park ranger to suggest a campsite. Plan carefully.

Camping Safety & Hiking Safety = Being Prepared
• Carry Pepper Spray
• Keep your child near you with a GPS Child Locator. You'll also find other models for hiking safety to avoid getting lost.
• Security Products - Personal Devices & Weapons
• Survival Options - SOS Distress Signals
SUMMARY of Camping Safety & Hiking Safety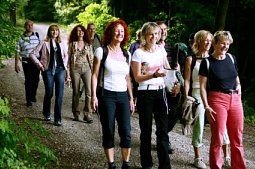 There is safety in numbers - the larger the group, the better – you'll have more camping safety resources.
Almost half of all Search and Rescue missions are for solo hikers out for a short hike – and many of those end up with the hiker injured or dead. Be truly prepared for even the shortest of jaunts. See Survival Options Overview.
---
Crime-Safety-Security > Travel Security Overview > Camping Safety