PARKING LOT SAFETY
FOR WOMEN
FAQ
This is what you need to know about parking garage and parking lot safety for women. Lessons from crime victims teach you how to stay safe:
A man in a parking lot pointed a gun at a woman leaving an Arizona restaurant and ordered her into his vehicle. Instead, she ran screaming back into the restaurant and called the police.

A petite California woman was getting into her car in a parking garage when a man came up to her, put a knife to her throat and told her to get in the car. She knew that whatever harm he'd do to her in a parking lot would be worse if she went with him. She pushed the knife away but he put it back. The woman shoved her purse at him and ran for help. The man jumped into her car and sped out of the garage.
HIDING SPOTS
Parked cars provide hiding spots for a crouching, stealthy predator to close in on you unless you're especially aware of your surroundings at all times. That means you should NOT be talking on a cell phone or listening to music with your ear-pods. Predators target prey who are distracted and unaware until you're face-to-face and less able to use your pepper spray or personal alarm noisemaker. Also beware of cars cruising the lanes - predators can suddenly stop and jump out to rob or kidnap you.
Stay ALERT and PREPARED
• ALWAYS keep warily scanning 360 degrees around you (NO ear-pods, cell phones, or other distractions) and,
• Carry pepper spray and a personal security alarm (noisemaker or screamer) very visibly at the ready. Both can be carried beyond the parking area as well. Or if you're near your car, you can push your car key's emergency button – setting off your car's horn. Either a personal alarm or your car's horn will spoil a predator's secrecy. Also, you'll further deter him/them by making it obvious that you're carrying pepper spray held at shoulder height and very ready to spray. Also see purse snatching FAQ.
• What if a gunman orders you to go with him? See kidnapping.
Do NOT feel guilty for assuming someone might be dangerous and treating him coldly. Get over it. An innocent and decent man easily understands a woman's safety concerns in a vulnerable location. If you become the victim of crime, you'll wish you'd been impolite before a threat escalated. See intuition and "Set Your Boundaries" at facing danger.
It's TOO EASY to get DISTRACTED
Dru Sjodin disappeared from a parking lot while talking on her cell phone to her boyfriend as she was leaving work at a mall in Grand Forks ND. He remembered her saying something like "OK, OK," before she hung up. He tried calling back repeatedly. He got a call from her cell phone hours later, but heard only static and a beeping noise. Paroled kidnapper/rapist Alfonso Rodriguez Jr. had abducted Sjodin at knife-point, bound her, drove her into the night, then raped and murdered her.
Her mother's poignant court statement is at Compassionate Friends.
PARKING GARAGES are even WORSE
In a parking garage in Tampa FL, a man pushed a woman into her car, then punched and raped her. A security guard, one level below, heard nothing. The garage owners say they couldn't afford security cameras or to pay someone to sit and watch the monitors. If parking garages do have surveillance equipment, it's often obsolete.
~~~~~~~~~~~~~
(Unless you're in a crowd), parking garage stairs and elevators provide traps that benefit predators by isolating you, muffling your screams and noisemaker alarm, and depriving you of possible escape routes. INSTEAD, walk in the middle of the aisles and ramps (with your pepper spray and noisemaker visible and ready) until you reach your destination. Again, see "Set Your Boundaries" at facing danger.
PREDATORS' FAVORITE TARGETS
• Someone looking friendly, timid, lost, absent-minded, or intoxicated – thus more easily manipulated.
• Someone wearing earphones or distracted with a cell phone – unaware of her surroundings.
• Someone unaware she's being followed until she's isolated and face-to-face.
• Someone parking close to trucks that prevent witnesses from seeing you – predators seek that kind of cover.
• Someone "handcuffed" with both arms loaded with packages or a child. For better parking garage and parking lot safety, insist that a store security guard escort you.

An Oakland County MI woman , Rebekah, had parked her car when Orlando Gonzalez called out to her that something was wrong with her car and told her to come look. She stepped toward him and he forced her to get back in her car. She now knew that her life was in danger. He kept grabbing at her and asking if she wanted to get stabbed. She started kicking him. She kept fighting him until he gave up and fled.
Rebekah fell for his lure and "stepped toward him" rather than running away. But then, instead of surrendering and putting herself fully at the mercy of a possible serial killer, she valiantly fought off her attacker. See friendly predators.
INCREASE YOUR PARKING LOT SAFETY
Carry pepper spray and a personal security alarm (noisemaker or screamer) raised and ready, in full view. Predators can see that you're alert and prepared, so more likely will leave you alone. (Or, if you're within 50 feet or so of your car, keep your finger on your car key's emergency button to sound your horn alarm to attract attention and hopefully scare off a predator).
Also, beware of Good Samaritans (here's one example of many thousands):

Abraham Isaac Varns helped William Porter carry his groceries to his car in Charleston SC, then pulled a handgun, robbing and forcing Porter to drive him across town.
Mr. Porter is very lucky he wasn't harmed – see kidnapping.
SAFELY LOADING YOUR CAR
In Idaho, a kidnapping and rape began as a woman was loading groceries into her car in the parking lot when a van drove up, and three men forced her inside.
In New Mexico, a routine trip to the store turned disastrous for a woman when a man hiding in her unlocked van kidnapped her when she returned and climbed inside. She was in a low crime area.
In Louisiana, a serial rapist-carjacker targeted mothers distracted while placing children in car safety seats. The abductions occurred outside church day-care centers, a church school, and a pediatrician's office.
IF YOU HAVE A BABY WITH YOU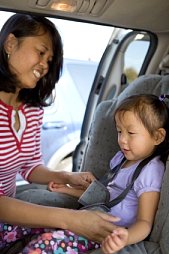 If you have a baby with you while loading groceries into your car, position yourself so the open car door and cart surround (protect) you. Keep the baby in the cart until you finish loading the groceries. If loading into the trunk, have a convex mirror (available at auto parts stores) affixed inside your trunk lid so you can watch behind you.
To load your baby into your car (after loading the groceries, the baby goes in last), get into the rear seat with your baby, lock the doors, and buckle your baby into the safety-seat. Now look around, have pepper spray in hand, exit the car and re-enter into the driver's seat, again lock the doors, and immediately drive away. Always use this routine and it'll become a habit.
But for better parking lot safety, have a male store employee escort you and stay until you drive away.

Always Keep Your Car LOCKED

Ismael Martinez was prowling through a Baytown TX parking lot when he found an UNLOCKED van, climbed inside, hid in the back, and waited. Soon Dorothy Baker and her two young sons finished shopping and returned to the van.

As she began driving, Martinez popped up out of the backseat with a knife and threatened to hurt her kids if she didn't obey him. She refused. He slashed her chest. She grabbed his knife. He bit her hand. She punched him in the face and smashed the van into a telephone pole to send him into the windshield. She demanded he get out. He fled. She then ran him over with her van - by accident. Oops.

Dorothy Baker is a heroic woman for defending herself and her kids – and for putting a predator in the hospital as well as prison. But... all that drama likely would've never happened – to her family anyway – had she simply kept her van LOCKED at all times.

Parking Lot Safety SUMMARY
• ALWAYS keep warily scanning 360 degrees around you (NO ear-pods, cell phones, or other distractions).
• Walk while holding pepper spray raised and ready, in full view of any predator looking for easy prey. Also keep your thumb on the panic button alarm on your key chain (emergency button), ready to attract attention and deter a predator. Or get a more effective personal security alarm (noisemaker or screamer).
• Lock your car doors the instant you enter and keep windows closed – then immediately drive away.
• Always keep your car locked – even if you're just running a quick errand.
• To avoid carjackings: always be aware of your surroundings and have an escape route. If a suspicious person approaches, blare the horn and/or drive away. If it's too late, give up your property without resistance. See Avoiding Carjacking as well as:

• Purse Snatching FAQ

• Street Crime FAQ

---
Crime-Safety-Security > Car Security Overview > Parking Lot Safety