CYBER BULLYING
and How to Stop It
FAQ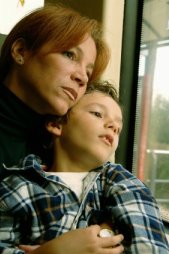 What parents and children should know about the torment of cyber bullying – and how to stop it.
The Internet Gives Bullies New Weapons
Some eighth-grade girls stole a makeup case from a new classmate, and she reported them. Then insulting, taunting instant messages started popping up on her computer screen. She responded in defense, which only made things worse. Email messages, blogs, and cell phone texting make bullying publicly humiliating with just a few clicks. The technology allows users to inflict pain without seeing its effect, thus fosters even more meanness than the old-fashioned face-to-face bullying. We need to protect kids from kids.
Grieving parents take on social media giant to save precious lives | 60 Minutes Australia | video 16m54s | Her parents couldn't save their precious daughter. Now they want to warn others – unsuspecting parents and vulnerable teenagers – about the dangers of popular social media apps like Snapchat.

CONFRONTING CYBER BULLYING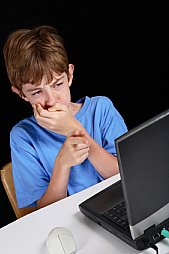 Bullying is the "intentional and generally unprovoked attempts by one or more individuals to inflict physical hurt and/or psychological distress on one or more victims." – per the US Department of Education ("Exploring the Nature and Prevention of Bullying")
Bullying, in general, may be a single physical attack or spreading rumors and social exclusion - with ridicule being the most common form. Cyber bullying uses websites, email, and cell phones to harass victims.
Victims often consider it cowardly to report bullying (and worsen their already low status among peers) and teachers and parents often disregard it anyway, which allows bullies to carry on.

Listen to your child and watch for warning signs of the effects of bullying: unusual behavior and class performance. Victims are often scared of leaving home – especially of going to school. Stopping bullies begins at home, and schools must properly respond as well.
FACING DOWN BULLIES (and Their Enablers)
Finally bullies are getting the attention they have long deserved. We no longer think that bullying is a normal part of childhood. Dan Olweus, a professor of psychology at the University of Bergen, Norway has developed a prevention model that focuses attention on the largest group of children, the bystanders. This turns the situation around so the other kids realize that the bully is someone who has a problem controlling his or her behavior, and the victim is someone they can protect." Boy's bullying is more direct - taunting and/or physical aggression. Girl's bullying is more indirect - gossip, rumors, and social exclusion. To lessen bullying, the school needs to survey the children and find out where, when, and how it happens. Then they must activate the bystanders by changing the nature of the school through classroom instruction, contacting parents, and zero tolerance of every incident. Parents of bullied children need to demand that schools take action.
See more about the "Bystander Effect" at Bystander Apathy.
CYBER BULLYING vs SCHOOLS & LAW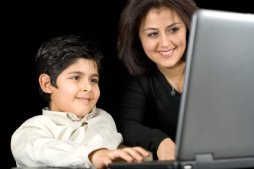 In order for schools to control out-of-school student speech, it must likely cause a "substantial disruption" to in-school activities. Parents and students must report the bullying. Even if the facts do not legally support school regulation of online bullying, a good faith report will alert a school to a potential problem which needs to be addressed.
In addition to bullies, online predators lurk at social and game sites to groom kids into deviant behavior. Learn how to protect your kids from all online threats at: 
► ConsumerNotice: Internet Safety for Kids.
► How to Prevent Cyberbullying with Technology.
► NeedHelpNow.ca helps teens stop the spread of sexual pictures or videos.

Some common texting acronyms:
BESTF - Bestest friend
TAFN - That's all for now
B4N - Bye for now
URTM - You are the man
GF - Girl friend
E2EG - Ear to ear grin
YKWYCD - You know what you can do
MORF - Male or female?
QT – Cutie
TA - Thanks a lot
RYS - Are you single?
MOVING BEYOND
Letting your kids freely wander the Internet is like letting them freely wander outdoors like the endangered Free-Range Kids.
The Internet frightens parents who aren't web-savvy, and they'll hurt their kid's futures if they stop them from using it. The Internet is a crucial tool to help with your child's homework and other valuable searches.
SURFING SECURELY
• Just like in the real world: always know what your children are doing online.
• Put the family computer in a common room.
• Use filtering programs so your children can't access questionable websites.
Resources for Cyber Bullying
& Overall Internet Safety
iKeepSafe.org
NetSmartz.org
Stop Bullying
Internet Safety for Kids
Essential Teen Internet Safety
Putting Parental Controls on Child's Mobile Phone
How Parents and Educators Can Protect Children's Online Privacy (also has legal insights)
A Comprehensive Cyberbullying Guide for Parents
Parents Guide to Computer Crimes and Internet Safety

---
Crime-Safety-Security > Child Safety Overview > Cyber Bullying