Home Intercom System
(or doorbell intercom)
A home intercom system (also known as a doorbell intercom or wireless intercom) lets you know who's knocking at your door before you open it and risk a Push-In. It's especially effective when using a Peephole as well.
You can even just watch and listen to your visitors without them knowing you're there. Now you can be fully aware and in control of your home.
To keep your costs down, you can have an inexpensive wireless intercom (with one speaker/microphone outside and one inside) on each of your exterior doors. That's not an integrated "system" - it's just good, common sense to use basic modern technology on all doorway entries into your home.

Going a bit Higher Tech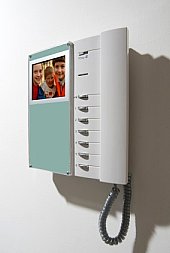 Other intercom models are also available – some with cameras so you can also see who's at your door with a larger view than a peephole offers - yet they can't see you.
Without your visitor(s) even knowing that you're watching and hearing them (possibly making plans), you'll know much more about who's wanting you to open your door. Thus you'll have much more control of your safety and security.
Then, when you do speak with them, you'll have the advantage. It'll be much easier to shoo away salespeople and other pests - as well as predators with clever scams designed to get you to open your door and be easily vulnerable to a sudden push-in attack. That's a very common type of home invasion (a real-life nightmare).
Wireless intercoms need new batteries periodically and may get occasional signal interference but are easy to install and are portable if you relocate to a new home.
A fully-integrated Home Intercom System

Additional wireless intercom units throughout your home let you see and talk to visitors at your door from anywhere in your home. You can also talk to another family member in another room – say from a second story bedroom to the basement. How cool is that?

Modern Intercom vs Old-Fashioned Junk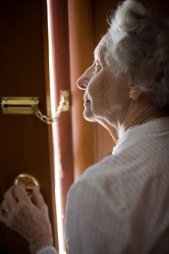 Door-chains ("chain-locks" or "chain door interviewers") are especially weak. They allow partial door opening to "interview" a visitor, BUT they're far too flimsy to stop a kick-in or an aggressive Push-In. Even a kid could burst through. Get rid of these ridiculously flimsy "security products."
And the newer "high-tech" types - such as spraying indelible ink on an invader as he bursts through to attack you anyway - do NOT protect you - they just might help arrest the invader afterward. That's far too late to protect you. There are other types equally foolish. None of them are nearly good enough for knowing who's knocking without needless risk.
Also, fortify your doors and get the best deadbolt locks at Lock Bumping.
DOORBELL
Here's why you want to make sure your doorbell works properly. Daytime burglars oftentimes pose as salesmen, etc. and ring a doorbell to see if anyone is home. If he mistakenly thinks your home is unoccupied, he'll either pick your lock or Break-In, or he'll penetrate your back door – and you'll end up face-to-face with a startled criminal – who might suddenly become violent.
So whenever your doorbell rings, first look through your peephole – and/or converse through a home intercom system – but do NOT open your door to anyone you don't know and trust (who might decide to Push-In). And make sure you don't get suckered into a Scam-In. So to deter burglars who target unoccupied homes, make sure your presence is noticeable.
Or at least make it look like someone is home. Use inexpensive electric timers to periodically turn on/off lights, TV's, and radios. These are useful day and night. Burglars prefer to target homes they feel sure are unoccupied. A barking dog (even a small one) also usually deters burglars.
Burglars who target unoccupied homes want the fewest problems possible and will move on to another, easier target.
EVERY DOOR IS IMPORTANT
Burglars will find your weakest exterior door. They especially love secluded doors that are hidden from view of your neighbors and passersby. That's why it's crucial to fortify ALL your exterior doors.
NO security products are guaranteed to prevent any crime - but will likely serve you well if combined with the guidance in Home Security - Overview and Outdoor Safety - Overview.
Pages Related to Home Intercom System

Apartment Security
DIY Home Security Systems
Simple Home Electronics

---
Of course, NO security products are guaranteed to prevent any crime - but might serve you well if combined with the guidance in Home Security Overview and Outdoor Safety Overview.

---
Crime-Safety-Security > Security Products Overview > Home Intercom System