PANIC ROOMS
for Home Invasions
Panic Rooms – for when the middle of the night becomes a nightmare: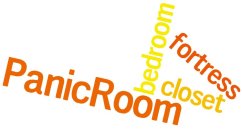 Ray Woods told of how he and his wife awoke to sounds in their Birmingham UK home and then battled to keep a violent burglar from barging his way through their bedroom door. The predator was screaming for the keys to their car. The man barricaded the door shut while his wife yelled for help from the window. Luckily, the burglar fled empty-handed.
Modern vehicle security requires the microchip-embedded key to operate a car. Thus thieves need the keys and are now breaking into homes to get them. And they get a bonus: the victims' wallets, locations of hiding spots, combinations to safes – and the victims themselves.
Safe Rooms:
Better To Have and Not Need
Than To Need and Not Have
A simple 2X4 piece of wood wedged up under your bedroom's doorknob will keep the door shut. See "How To Keep Monsters Out" in Apartment Security FAQ.
Or turn your bedroom or closet into a fortress (without going broke). See safe room for home invasions.
Also, almost all residential doors (front and rear) can easily be kicked through, pried open, or have its lock picked, bumped, or wrenched open – all in less than 10 seconds. And the prying, picking, and bumping are nearly silent. See door reinforcement.

Even better, also fortify your entire home with overlapping layers of protection:
• Security Products - Window
• Security Products - Alarms
• Security Products - Simple Electronic
• Burglary Prevention FAQ
• Home Safety Tips
• Home Invasions
---