CHILD KIDNAPPING

Child kidnapping: what every parent should know about the dangers kids, tweens, and teens face when alone outdoors.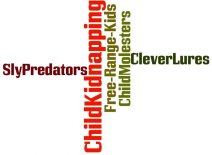 The two 13-year-old girls were followed around inside the Appleton WI mall by a man in a business suit. The man, Jamie Lee Sames, followed the girls, identified himself as a police officer, and accused one girl of shoplifting. He ordered her friend to sit on a bench and took the victim behind a dumpster where he fondled her – claiming he needed to search her for stolen property.
The victim's mother had thought that two 13-year-olds would be safe together at the mall in a wealthy suburb. But now she realizes that crime can happen anywhere at any time.
If you're unsure whether someone is a plainclothes police officer, ask for photo ID. You can also call 911 to verify his identity. And, if you're still doubtful, ask the dispatcher to send a uniformed officer.
CHILD SAFETY TIPS
Fortunately, though the predator kidnapped her to a second location (and he could have taken her to a distant, secluded crime scene), he allowed her to survive. The infamous serial killer, Ted Bundy, used the same scam to lure a victim (see Wolf in Sheep's Clothing) – and he also had a phony police badge.
To safeguard their children, parents shouldn't gamble that kids on their own can avoid the clever lures of the countless thousands of sly predators. See A Child Molester's Fiendish Lure, Free-Range Kids, and Child Safety - Kidnap Prevention.

---
Also see Personal Security Alarm
---
Crime-Safety-Security > Newsletter Archive > Child Kidnapping