Travel Security:
Foreign Travel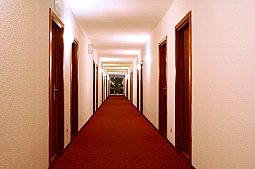 Foreign Travel Security means learning the unique customs and dangers of a foreign land before you go.
The budget hotel in the Philippine city of Quezon had no fire alarms, sprinklers or emergency lights. But it did have window burglar-bars that trapped 66 guests who died in an inferno. Guests panicked as elaborate burglar-bars blocked their escape through bedroom windows. Many foreign lands have weak, if any , safety standards.

Before leaving home, learn about your destination's political situation, holidays, volatile sporting events, language problems, crime, and security. Never forget that the legal rights you enjoy at home virtually disappear when you leave. Your nation's embassy has limited powers but you should register anyway upon arrival. And if you make an appointment, you'll be amazed at the information they'll give you.
Local customs vary and so do the clever criminal teams of men, women, and children – such as generously offering drugged food and drink to tourist targets, is but one of many examples. Also see Outdoor-Safety-Pickpockets.
Luxury Surrounded by Poverty

& Corruption


Extremely dangerous areas surround many resort and tourist venues. Violent robberies are common and local police (and/or hotel staff) are often partners with the criminals. Criminals know that tourist-victims rarely stay to file charges, which are usually futile anyway. Always remember the maxim of travel security - tourists draw predators like blood draws sharks.

Avoid wearing jewelry and expensive clothing, and don't carry your passport. Avoid drawing attention to yourself. Avoid saying anything that may offend people or using hand gestures unless you're sure of their meaning. Just one example: the American hand sign for "OK" (thumb and index finger forming a circle) has very different, insulting meanings in many foreign countries.


Native women in many foreign countries never respond to a male stranger's conversation. Visiting women should do the same. Any response – whether angry or even a smile – is considered flirtatious and an invitation to pursue her. Simply ignore a male stranger's attempts to talk to you.

Vary your routine and avoid areas where you can be cornered. Stay in a group of friends. If ever lost, don't act like you are and don't ask directions from street people – they may send you into a trap. Don't use unmarked taxicabs. Ask an established merchant for directions or to call a taxi for you.
Safe, Risky, and Dangerous Countries
As of April 2013, Canada's Department of Foreign Affairs rates travel safety for tourists:

"SAFE" (excluding urban slums or isolated rural areas): Australia, Botswana, Canada, Chile, most of Europe, Greenland, Iceland, New Zealand, Malaysia, South Korea, the United States, and Uruguay.

RISKY: Africa, much of China, Central America, Mexico, the Mid-East, much of Russia, most of South America.

DANGEROUS: Afghanistan, Brazil, Central African Republic, Iran, Iraq, Mali, Niger, North Korea, South Sudan, Somalia, Sudan, and Syria.

Ransom Kidnapping is Common
Kidnappings for ransom occur in countries with political turmoil, extreme poverty, or weak and/or corrupt law enforcement.

Be especially wary of places such as Angola, Algeria, Argentina, Bolivia, Brazil, Chechnya, Colombia, Costa Rica, Ecuador, Guatemala, Haiti, India, Jamaica, Mexico, Nigeria, Paraguay, Peru, the Philippines, Russia, South Africa, Thailand, Trinidad, Venezuela, Yemen, and Zimbabwe.

Tourists are easily targeted because they're easily identifiable, and it's known there's ransom money behind business travelers. See Hostage/Ransom at Survival Options-Hostage Taking.
Carry a family photo to help gain a kidnapper's sympathy. Beware of unattended bags, and accept no unexpected deliveries at your hotel - do NOT open your door. Keep quiet about your travel plans.
Observe all of Outdoor Safety - Overview, especially Outdoor Safety - Spotting Danger.
PRE-TRIP RESOURCES
Hotel burglaries and street crime, not terrorism, remain by far the main threat to travel security abroad today. To help plan your trip, contact SOS Assistance Inc at InternationalSOS.com and WorldCue Traveler at ijet.com. For a fee, both offer important information on foreign locations before and during your trip.
Online travel agencies like Orbitz, Travelocity, and Expedia offer travel-management services. Navigant International and Rosenbluth International offer much more sophisticated – and more expensive – 24-hour travel services.
Consult "The World's Most Dangerous Places" by Pelton, Dulles, & Aral – Fielding Worldwide, a comprehensive travel security guide written by veteran journalists.
Consult "Travel Advisory" by Bambi Vincent and Bob Arno – Bonus Books 2003. They're the experts on Outdoor Safety - Pickpockets.
Check the U.S. State Department's Bureau of Consular Affairs' web site at www.travel.state.gov. Click on the Travel Warnings/Consular Info Sheets. Go to a page that lists three types of information: Consular Information Sheets, Public Announcements, and Travel Warnings.
More travel security-related information:
• Center for Disease Control and Prevention at wwwnc.cdc.gov/travel.
• U.S. Department of State's Alerts & Warnings at travel.state.gov/content/travel

Before you leave home, contact your destination hotel and ask the concierge to rent a cell phone for you there. Get the phone number in advance and give it to your relatives and employer. Also enlist in an international calling service like AT&T Direct. Take the address of your home country's embassy at your destination, to more quickly register upon arrival.
Shipping Your Luggage Ahead: global door-to-door delivery services such as FedEx and UPS charge as little as US$40 and save you an average total of 2.5 hours of hassles at airport baggage check-in and baggage claims. You'll also avoid the all-too-common lost luggage and thieving airline baggage employees who often pick luggage locks and zippers. Thieves also love baggage claims areas.
Portable Burglar Alarm Equipment & Personal Security Devices
• Door-Stop Alarm for hotel security – a door/floor wedge that acts both as a siren and a physical barrier to forced entry.
• Doorknob Alarm - shrieks when jostled.
• Stash clothing (such as a money belt).
• Stash safes (diversion safes): ordinary cans (of deodorant or whatever) modified with hidden storage space.
• GPS Child Locator: a child tracking device (works for all ages).
• Personal Security Alarm: (noisemaker or screamer)
---
Crime-Safety-Security > Travel Security Overview > Foreign Travel