Home Security:
GOOD NEIGHBORS
for Home Defense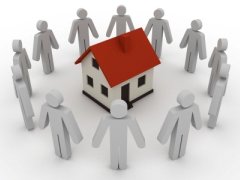 The final layer of protection for home security is the various forms of neighborhood watch programs, such as block clubs, citizen patrols, and building patrols.
"Our false sense of security was stolen from us," the home invasion victim said. "We'll never live in an isolated area again. After you've looked down the barrel of a gun, you want people around so if you scream for help, someone will hear you."
Cincinnati suburbanites are having their sense of security shaken by criminals who find the suburbs a bonanza where homeowners leave doors unlocked and windows open. Citizens are now forming neighborhood watch programs.
The Lewellens had felt safe with their guarded front gate, security cameras and private security patrols. That changed when they returned home and found their Las Vegas home burglarized. An FBI spokesperson says "Gate codes are given out to pizza delivery people and repairmen. The gates are a false sense of security." The gated community has now begun Neighborhood Watch programs.
Charles Johnson answered a knock on his Indianapolis door. A woman asked for a drink of water. Johnson went to get a glass when two gunmen stormed in. When Johnson's neighbors spotted the two men loading items into a van, they knew that wasn't right, and phoned 911.
Burglars do NOT want to be watched
A prowling burglar will leave an area if he sees neighbors watching him. Thousands of neighborhood watch programs nationwide have successfully improved home defense. A simple map of homes in your area with names and phone numbers is a powerful alliance to combat crime. You might supplement that with citizen patrols.
Apartment dwellers can form building patrols and watches. Your local police department will provide you with materials.
On a smaller scale, you can simply get to know your neighbors better, exchange phone numbers and agree to look out for each other's home defense. Try to do so with any neighbor whose home is visible from your windows or yard.
Security Products - Alarms and portable, wireless DIY Home Alarms (for homes as well as common areas in apartment buildings) help neighbors unite against crime.
"Safe" Neighborhoods are an Illusion
Protect your home security even if you live in Sleepy Valley - predators often hunt where the prey least expect them.
To stop home intrusions, make sure all your family members use these home defense strategies. Predators will always find prey – but the most cautious targets will be spared.
---